Transportation Machine Learning & AI Solutions
Mosaic has deployed AI, ML, and advanced analytics for the following transportation use cases
Autonomous Integration & Real-Time Routing
Mosaic optimizes the routing of a fleet, improving fuel efficiency and reducing transit times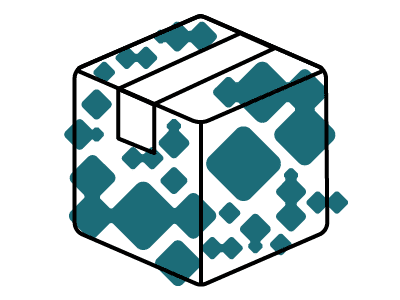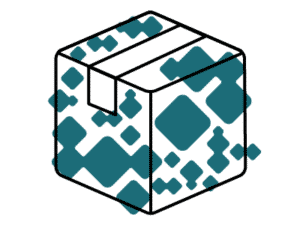 Predictive Resource Planning & Allocation
Mosaic uses machine learning to fuse disparate data sources to plan more efficiently & effectively.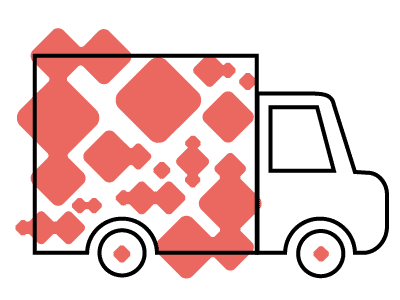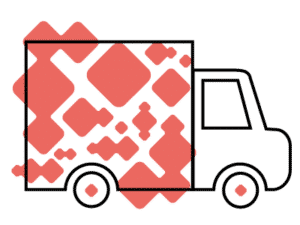 Revenue Management
Transportation organizations use Mosaic to analyze their network and exploit opportunities with analytics.
Featured Transportation Clients


AI & ML is reshaping how transportation companies work
As you might have seen on our other industry page, AI & ML are changing how transportation firms operate. It might seem like hype or buzz, but advanced analytics is fundamentally changing the way packages move around the globe. Tools and techniques from computer vision, deep learning, and predictive analytics are driving innovation in the transportation industry.
As the corporate world becomes increasingly more globalized, it is not uncommon for a company to move a finished product through multiple parts of the world before it lands in a customer's hand. The increased complexity might be daunting to some managers, but from a data scientists' point of view, these flows produce a ton of information that is ripe for analysis and can enable discovery of new opportunities. Customers now expect a certain level of service, and companies need to manage a complex network of plants, providers, suppliers, and buyers that enable them to remain flexible, operate efficiently, and meet customer demand.
Mosaic has helped our transportation customers deploy data science techniques, specifically predictive analytics, machine learning, & artificial intelligence, to fortify their operational and strategic decision making by way of accurate visibility, simulation, & automation. The ability to better foresee the future, anticipate and plan for future events and disruptions, and strategically reduce risks helps companies continue their operations in the face of disruptive events.
Mosaic's roots run deep in the transportation world. We have been designing and developing advanced analytics and decision support tools for NASA, the FAA, UPS, and FedEx since 2004. We are uniquely qualified to help transportation firms glean insights from their data. Our world-class analytics depth coupled with extensive domain knowledge offers companies an unparalleled solutioning approach.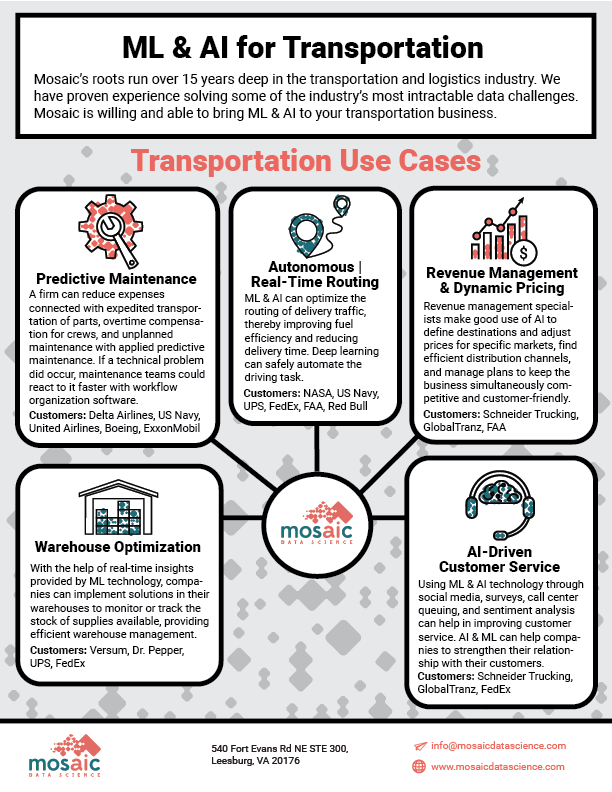 Don't have time to review right now?
Transportation Success Stories
---
Combatting Supply Chain Disruptions with Data Science
Global external shocks are going to continue to happen, that is a fact of operating a business in today's environment. As companies embrace data science in their decision-making processes, they are better positioned to deal with these disruptions, allowing them to manage a risk-optimized supply chain. Companies who have deployed data science into their businesses will be poised to automate AI-driven decisions to even very sudden disruptions.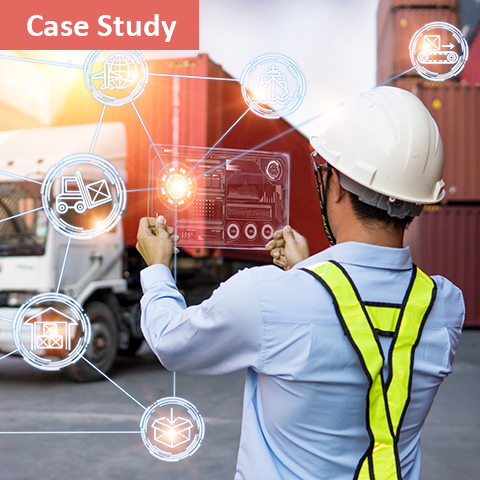 Predicting Trucking Trends
The revenue management team believed data science methods could be used to identify time-dependent trends in demand and to characterize demand patterns related to produce harvest seasonality. The trucking operator identified produce harvesting in the southeastern United States as the first market they wanted to analyze.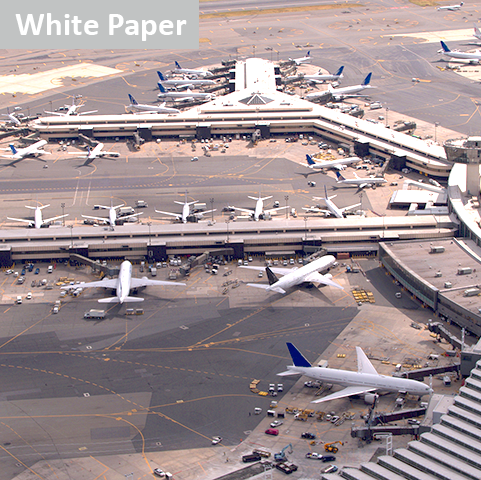 Detecting Airport Layouts with Computer Vision
Airport blueprints are usually available at the time the airport was planned and constructed; however, airports typically undergo many changes over decades of use, requiring tedious, time-consuming blueprint updates to get pilots an accurate airport layout to reference. Digitization of airport layout blueprints and automatic updating through computer vision could save thousands of hours of labor each year if implemented worldwide.
Advanced Spot Market Analytics
In the hyper-competitive third-party logistics industry, every minute counts. Third party logistics (3PL) brokers operate in the trucking spot market, where agents match one-off shipments with truckers (carriers) willing to transport them. Due to national trucking shortages and increasing demand, brokers must work quickly to contact carriers likely to accept a particular shipment while maintaining profitability.
View MORE Transportation ProJECTS