Healthcare & HealthTech Machine Learning & AI Solutions
Use AI and machine learning to surpass healthcare potential
Data analytics is changing the way healthcare is being provided. The ability to predict patient populations more accurately, combined with analysis techniques that enable better management of health outcomes, provides opportunities for healthcare providers to optimize treatment plans (both for the patient and provider). Many healthcare firms are already putting AI into action; according to a report from 451 research, 75% of healthcare institutions say they expect to have an AI project in place within the next three years.
Health insurers, hospitals, health tech, and care organizations can leverage their data to make better decisions. Early adopters of ML & AI are reaping benefits from using AI to manage claims, detect fraud, improve clinical workflows, optimize staffing schedules, and prescribe care.
AI & ML offers several advantages over traditional analysis and clinical decision-making techniques. Learning algorithms can become more precise and accurate as they interact with training data, providing humans with unprecedented insights into diagnostics, supply chains, care processes, treatments, and patient outcomes.
Mosaic data scientists pull together many different medical and other relevant data sources, build models to predict potential outcomes, and offer decision support at critical points of service. Many of the decisions facing healthcare professionals are life and death. The ability to confidently make these decisions by combining data-driven insights with provider expertise saves lives, increases workforce efficiency, limits risk, and liability, manages costs, and enables more effective care.
Featured Healthcare Machine Learning & AI Clients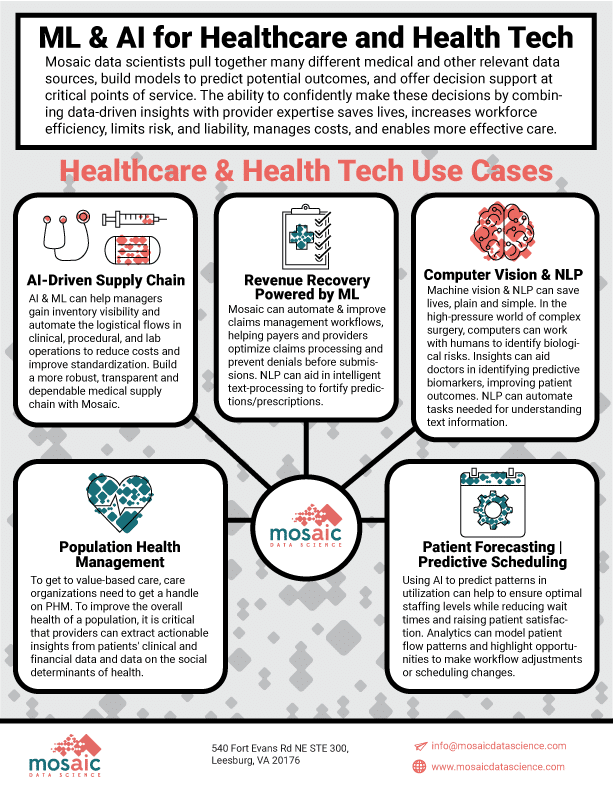 Don't have time to review right now?
Healthcare Machine Learning & AI Solutions Delivered by Mosaic.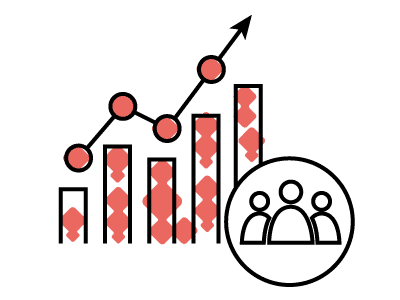 Patient Volume Forecasting
Mosaic can tailor custom machine learning models to automate & improve forecast patterns.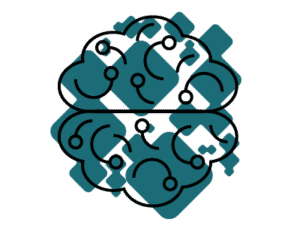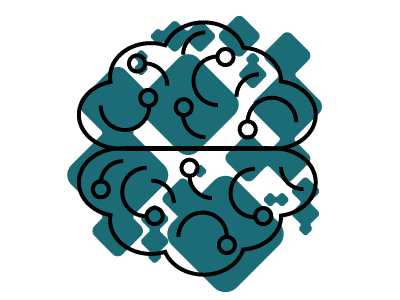 AI Supply Chain Document Processing
Artificial intelligence can enable more robust, transparent, and actionable insights.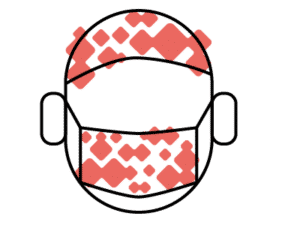 AI-Enabled Hospital Scheduling
Leveraging ML-fortified forecasts, Optimization can be deployed to recommend scheduling flows.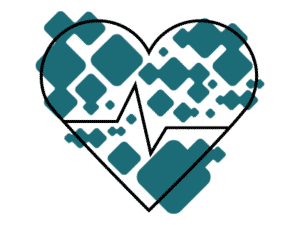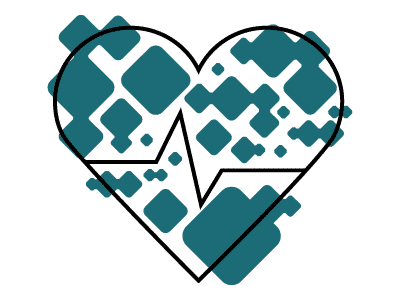 Population Health Management
Mosaic analyzes data to provide insights into emerging & hidden health trends.
View More Health Projects