Fortifying Your Organization's Data Management With Amazon AWS

Mosaic deploys Amazon AWS AI Services to help more customers modernize their data strategy and build custom solutions powered by artificial intelligence and machine learning.
The introduction of the cloud set off a generation of reinvention, and now, the next wave of change will be driven by data. We understand that organizations like yours rely on data to make informed decisions, look around corners, and take meaningful action. Our goal is to help you build and maintain a data strategy that ensures stability and relevancy through challenges and industry shifts, both now and in the future.
To ensure our customers are getting the most out of their data, Mosaic uses Amazon AWS AI Services, the industry leader in providing the most comprehensive and most cost-effective services for our data management, analytics, and machine learning capabilities.
How We've Helped Customers
Mosaic Data Science has a comprehensive portfolio of clients that have successfully used Amazon AWS to solve data warehouse, analytics, and AI/ML problems. Discover how our partnership with AWS AI Services has helped customers optimize efficiency, improve decision-making, and accelerate innovation with new, valuable insights.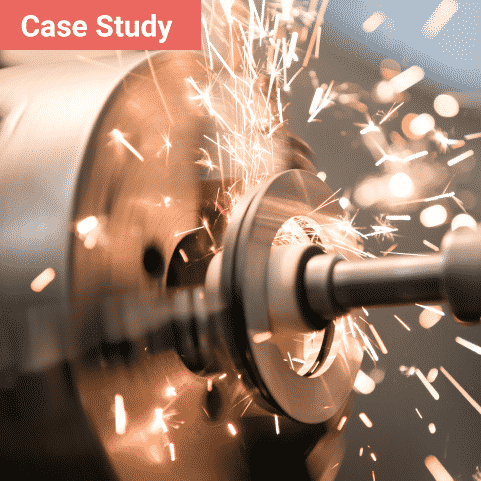 Predictive Maintenance Modeling for Industrial Machinery
Read Excerpt

Mosaic was contracted by multi-national manufacturer of construction and mining equipment to develop a proof-of-concept predictive maintenance model to predict equipment failure before it happens to minimize downtime and optimize maintenance schedules.
AWS Performance Tuning for Machine Learning Predictions
Read Excerpt

Mosaic helped a trucking and logistics operator optimize their machine learning deployment on Amazon Web Services (AWS). As an AWS Select Partner, Mosaic was well-positioned to deploy machine learning engineering and serverless architecture services that sped up model inference while performing a minor overhaul of the AWS architecture and code base organization.
Top Tier Benefits You Can Rely On
With Amazon AWS AI services, Mosaic can easily help organizations like yours modernize your data infrastructure with the most scalable, trusted, and secure cloud provider in the industry.
We work with you to develop a plan for your data and put it into action, unifying your data silos with secure and well-governed access to data across data lakes and purpose-built data stores. Our talented data scientists will help your organization streamline old processes with artificial intelligence and machine learning (AI/ML) solutions.
Reinvent Your Business with Data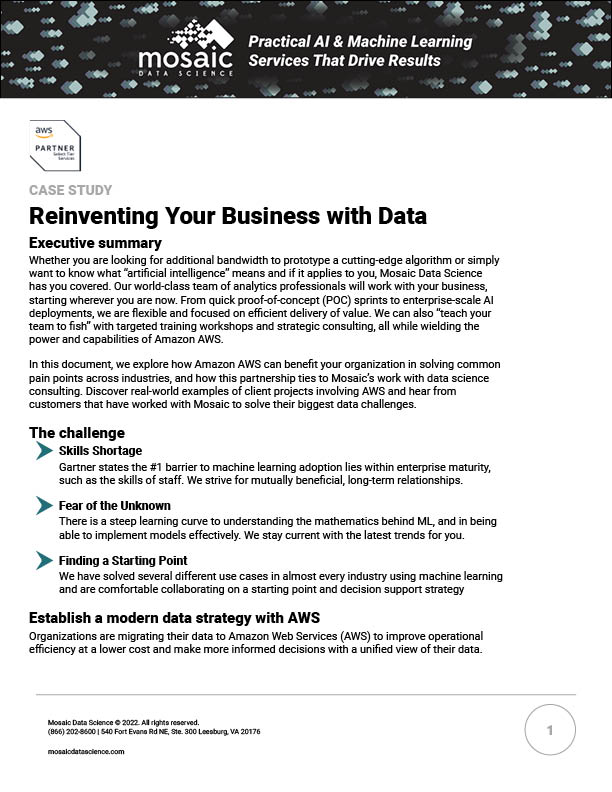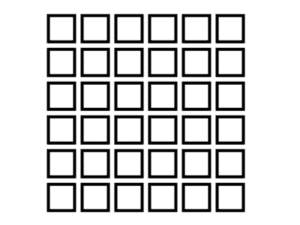 Tens of thousands of data lakes on AWS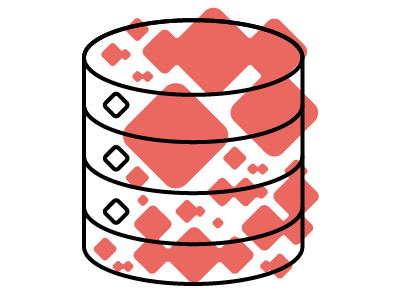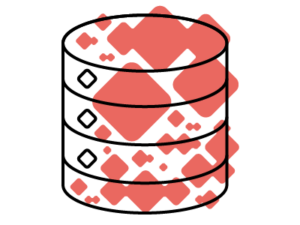 More than 450,000 databases migrated from on-premises to AWS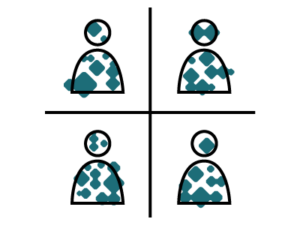 More than 100,000 customers using AWS for AI/ML
Learn how we can partner with you.