The Mosaic Advantage
Artificial intelligence (AI) and machine learning (ML) are rapidly transforming businesses across all industries. But for many companies, the learning curve for these technologies can be steep. That's where Mosaic comes in.
At Mosaic, a top artificial intelligence company, we deliver targeted, data-driven, and creative artificial intelligence services that will transform your organization and boost your competitive edge. With a track record from 2004, we continue redefining possibilities and delivering unparalleled value for our esteemed clients through bespoke AI deployments.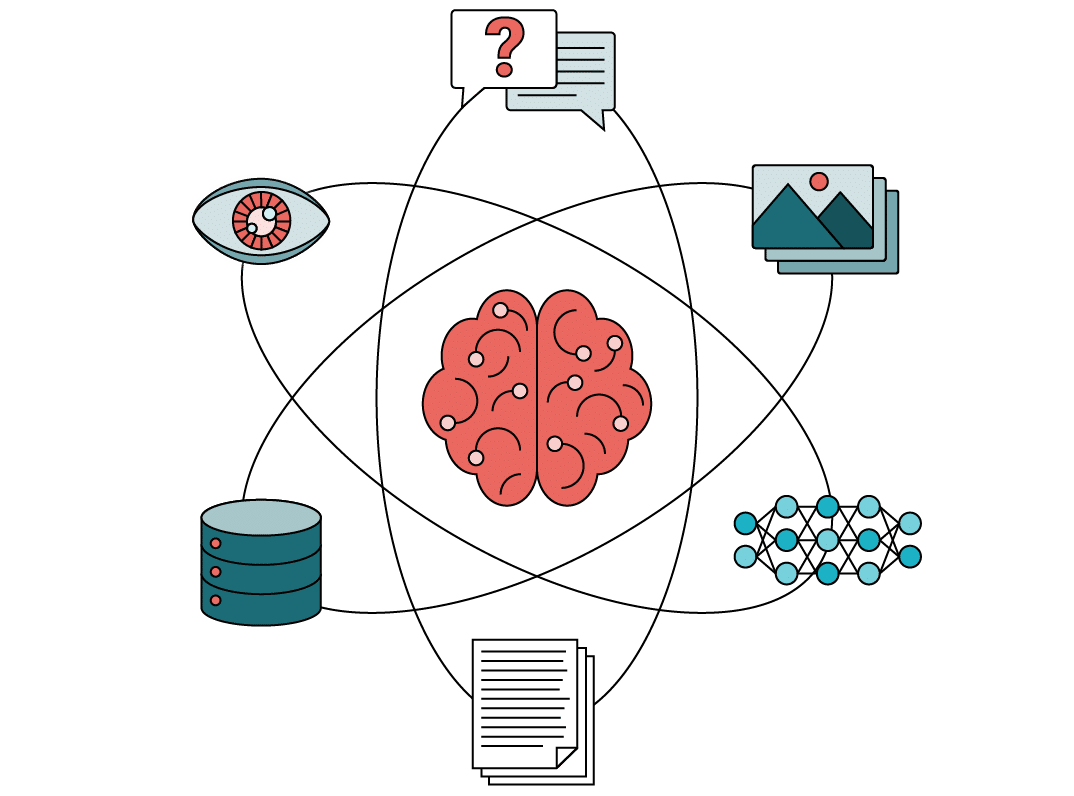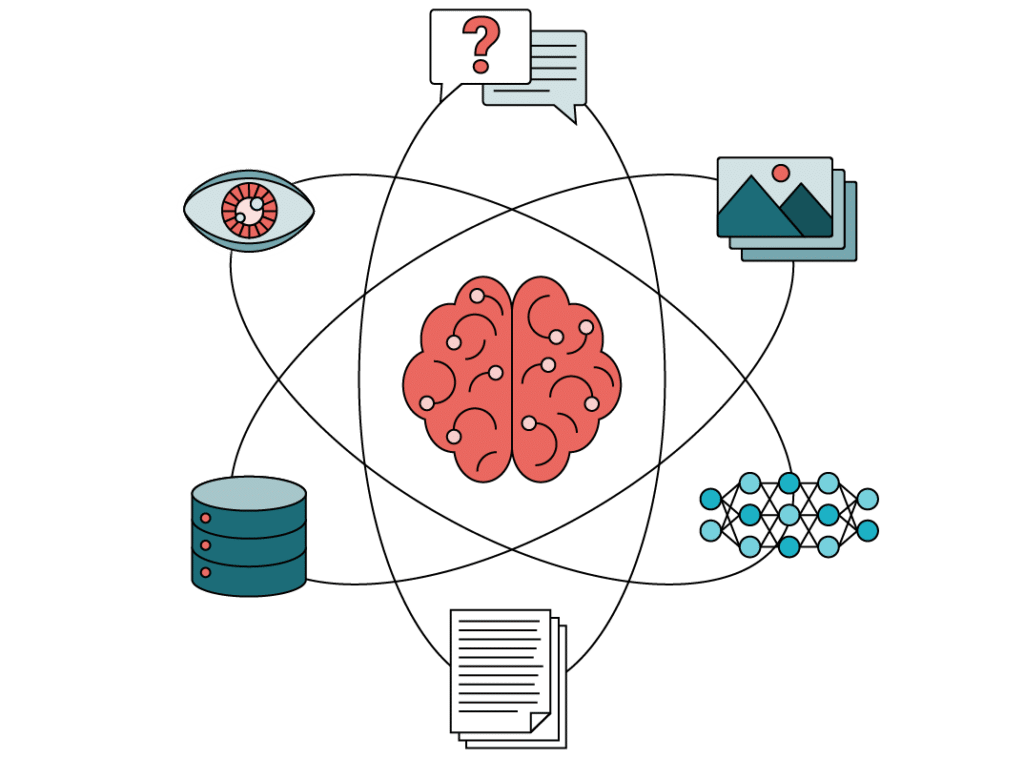 Innovative Firms Hire Mosaic for their AI Needs
Read a Few of Our Successful AI Deployments
Why Choose Mosaic's Artificial Intelligence Strategy Consulting & Execution Services for Your Requirements
Platform Agnostic Approach
We take a platform-agnostic approach to AI development, offering unbiased insights into your organization's existing infrastructure to improve processes and drive results through buildable, custom solutions; we don't package our AI expertise in a universal platform.
Specialized Skillsets, Tailored Solutions
Our experts are primed to tackle your business challenges head-on, offering tailored solutions that drive timely results, including specialized experience in Natural Language Processing (NLP), Computer Vision, MLOps, and more.
Experience You Can Trust
With nearly two decades of AI and ML experience under our belts, we have honed our craft and mastered the art of delivering innovative solutions that stand the test of time. We incorporate the newest technological advancements to ensure your business benefits from the latest AI algorithms and methodologies.
Data-Driven Creativity
We combine data-driven insights with design thinking to unlock unprecedented potential in your business operations, optimizing processes and maximizing efficiency.
On-Demand Access to Top Talent
Gain immediate access to a high-performing team of experts ready to propel your AI initiatives forward through our Rent a Data Scientist™ model.
Faster Results, Greater Value
Our agile methodology delivers results in as little as 1-3 months, unlocking new opportunities for your business sooner than you ever thought possible.
According to Stanford University's 2023 State of AI Report, "The demand for AI-related professional skills is increasing across virtually every American industrial sector."
Are you executing AI projects effectively and efficiently?
Mosaic deploys bespoke solutions to help customers benefit from Modern AI Tools. Our Neural Search Engine Framework can help any firm safely & securely benefit from these robust technologies.
Addressing Industry Challenges with Precision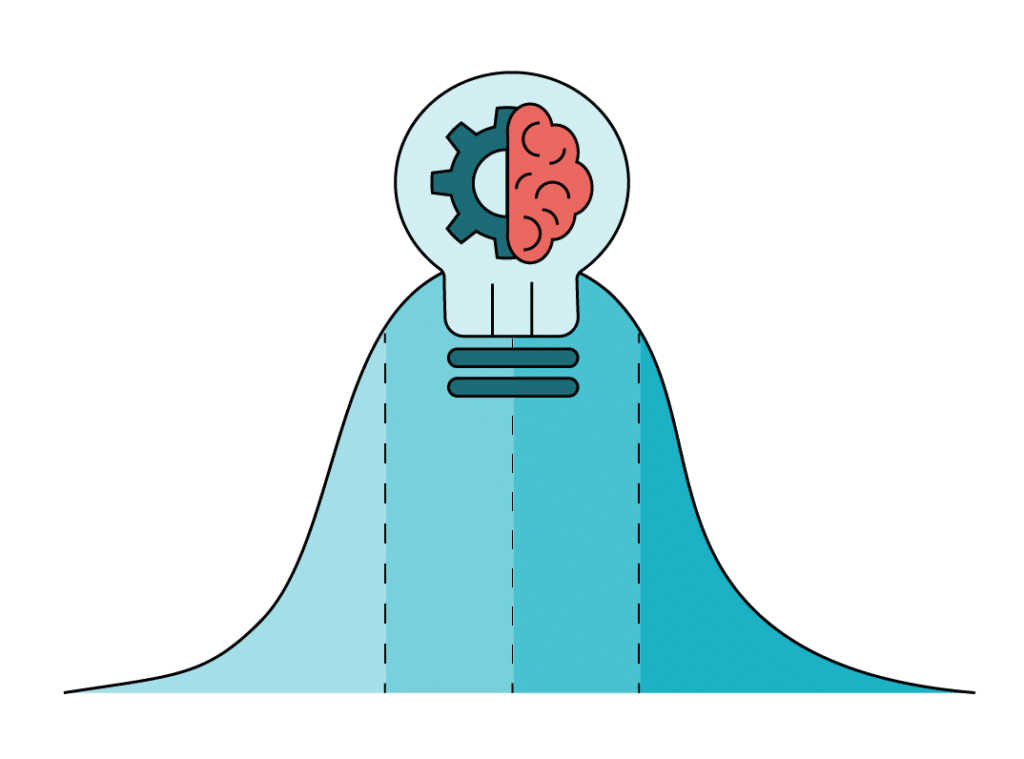 Ascend the Learning Curve
Embarking on AI and ML projects without the right expertise can lead to lengthy endeavors and the creation of enigmatic black boxes. Mosaic ensures you have the guidance of seasoned professionals, streamlining your AI journey and delivering transparent, understandable solutions.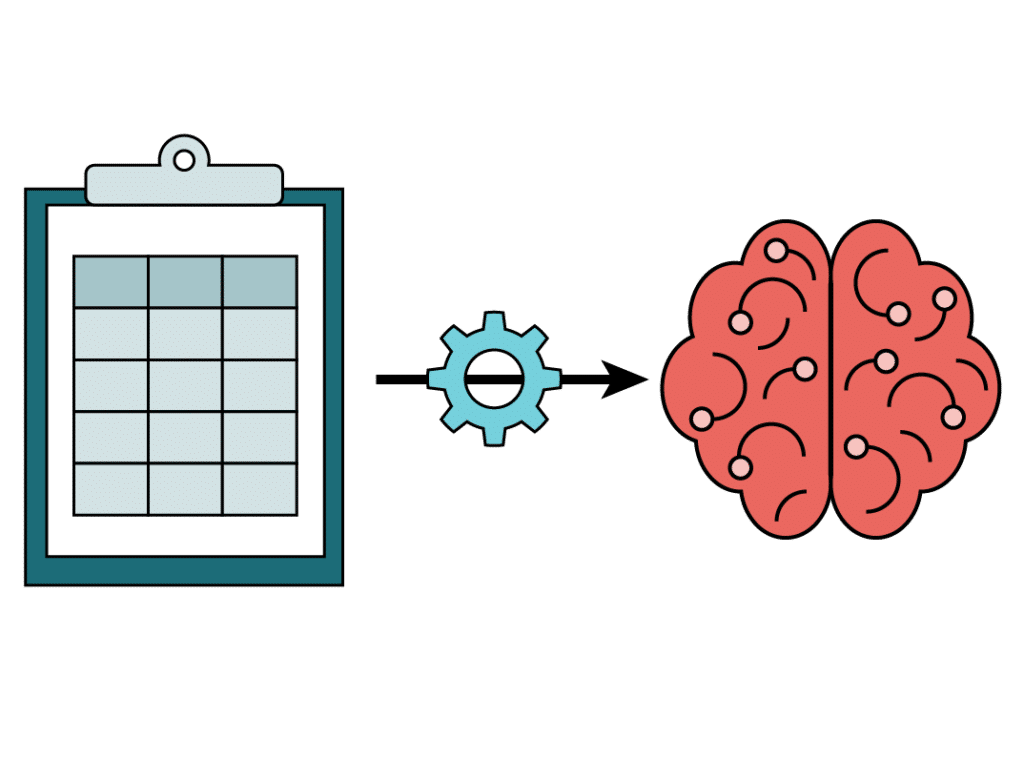 Enterprise-Wide AI Centralization
Navigating the complexities of AI and ML centralization can be overwhelming. Our seasoned consultants will help your organization develop a comprehensive AI strategy and execute it flawlessly, ensuring seamless integration and implementation across the enterprise.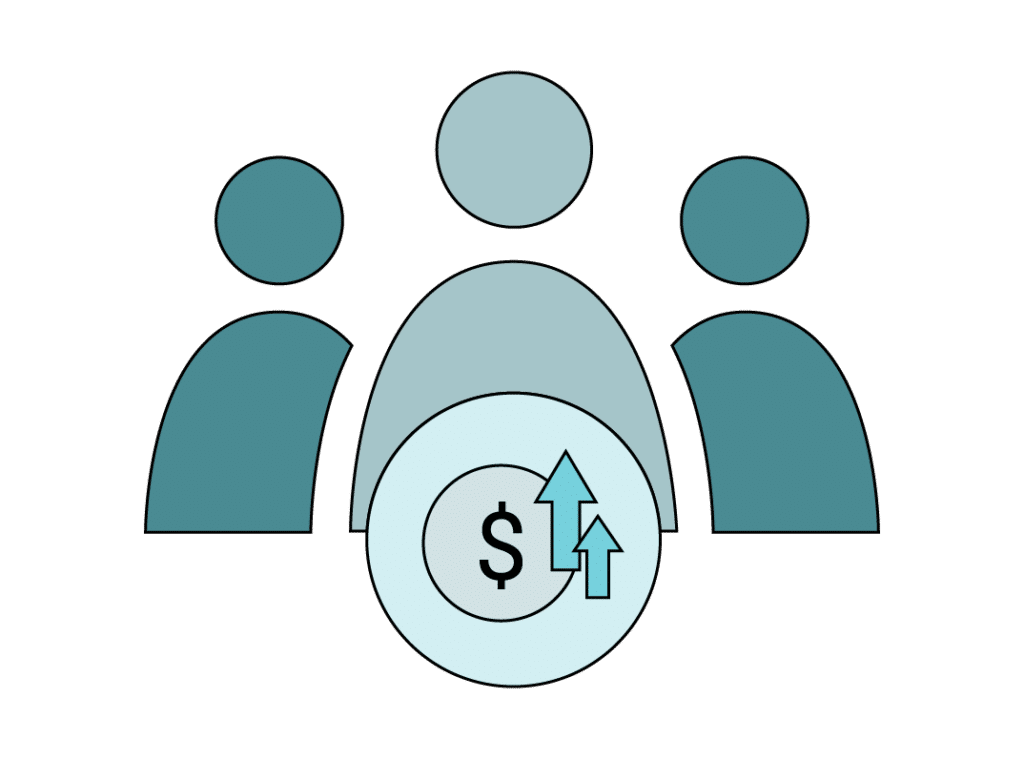 Quick, Cost-Effective Expertise
Building an in-house team of data scientists is difficult, expensive, and time-consuming. Hiring the right people could take several months and considerable effort to find the right fit. Partnering with Mosaic allows you to access top-tier talent at a fraction of the cost within days, allowing your business to get started on a project quickly while gaining a financial advantage.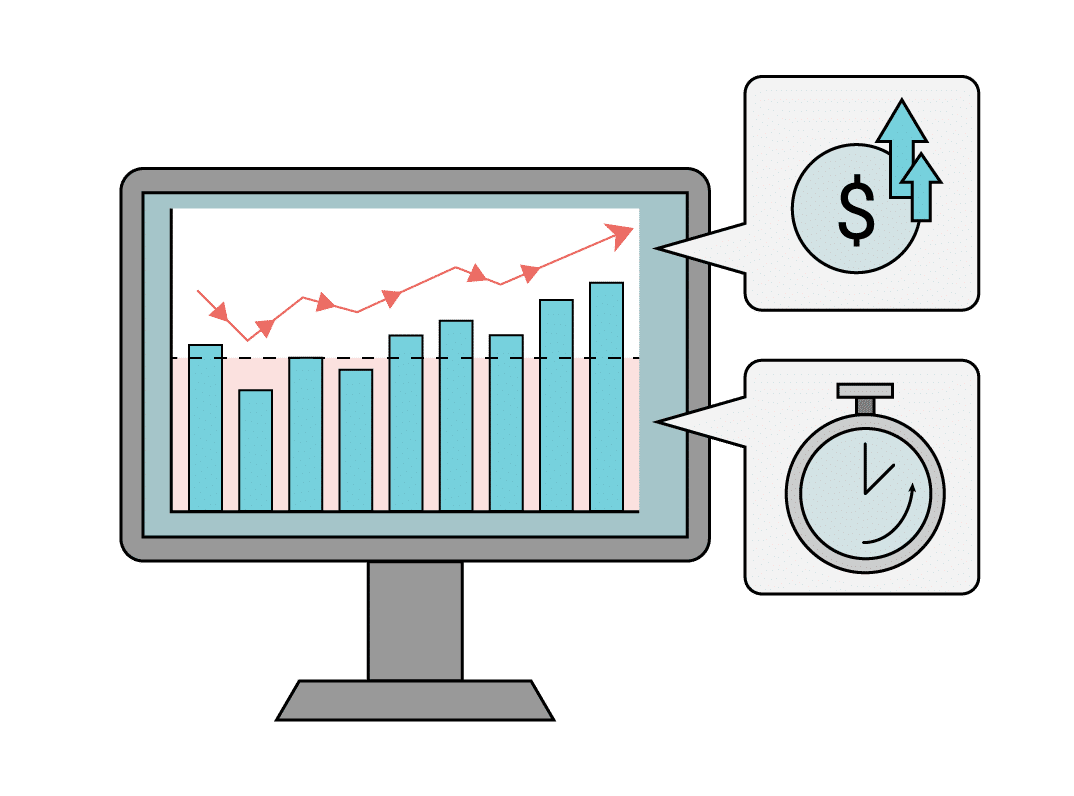 Proven Success, Measurable ROI
With a long list of satisfied clients, we take pride in deploying custom AI solutions that automate decisions, optimize processes, and deliver substantial ROI for hundreds of companies. Your success is our ultimate goal.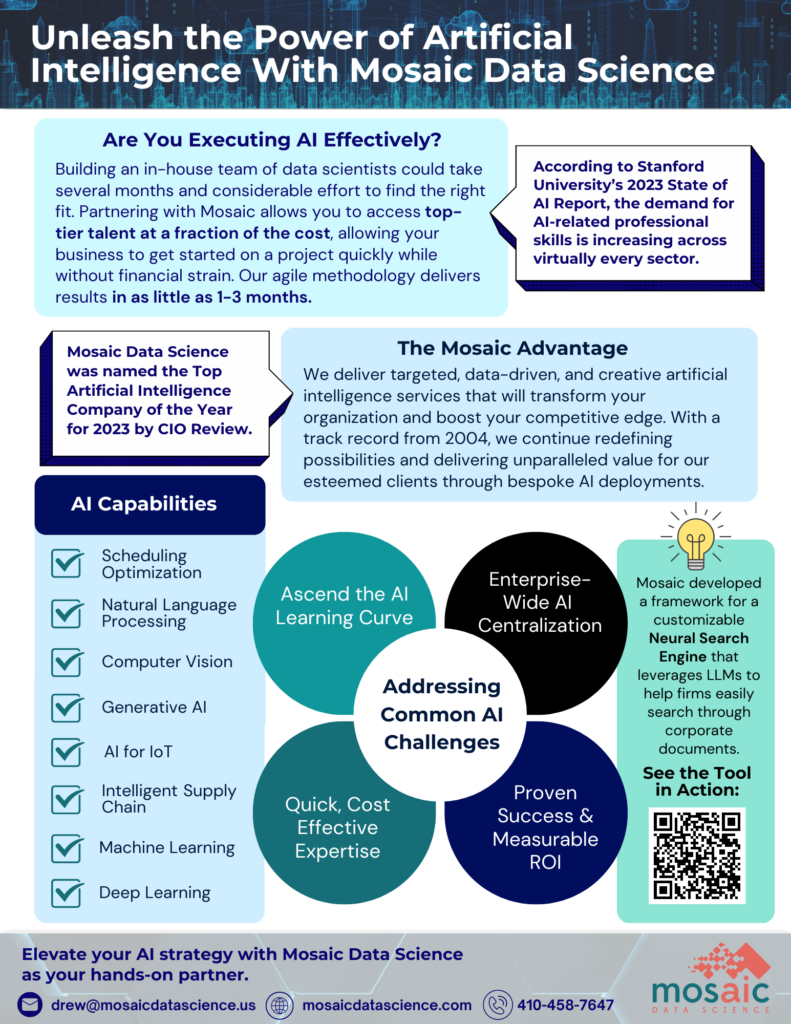 AI Services At-A-Glance
Download our one-pager to share with others.
Take the First Step Towards Intelligent Transformation
Mosaic, a top Artificial Intelligence company, is the right choice if you're looking for a trusted advisor to help you with your AI and ML journey. We have the expertise, experience, and track record to help you automate and improve decisions.
Discover how Mosaic's AI and Machine Learning Consulting services can unlock untapped potential within your organization.
Let's build bespoke applications that deliver value now and well into the future together.
Still not convinced?
Review some of our success stories here.