Strategy & Execution Services
At Mosaic Data Science, we offer comprehensive data analytics strategy consulting and development services from top-flight data scientists designed to help you harness the full potential of your data. Whether you're seeking an expert consultation or would like to outsource a project, our team will work closely with you to align your business goals to the proper AI, ML, or Optimization tech.
We are agile enough to make just about any engagement work for you, but here are some of our most popular.
Strategy
In our 20 years of building predictive & prescriptive analytics tools, we have learned how organizations need to embrace data-driven decision-making, and we package that knowledge into a few different engagements any company can tap.
Strategic Consulting

Mosaic designs and delivers tailored AI/ML readiness assessments, customized training/mentoring, and algorithm evaluation to help companies find their footing in today's fast-moving AI world.
GenAI Assessment

Unsure of where to turn in the fast-paced world of GenAI & LLMs? Mosaic's comprehensive assessment delivers you an AI Strategy Plan in as little as 2 months.
Explainable & Ethical AI

Learn how to mitigate algorithm bias and ensure fair and ethical AI-driven decisions with Mosaic Data Science's Explainable AI and MLOps expertise.
Execution
Our team of data science experts have the skills and experience to take your AI/ML projects from ideation to deployment, and we work closely with you at every step to ensure that the analytics meet your specific needs.
AI & ML Project Design & Execution

Let us cross that project off your to-do list. Mosaic develops initial Proofs of Concepts through production-grade data science applications, and everything in-between.
Rent a Data Scientist™

Buried by projects? Going through a hiring freeze? Looking for a new analytical perspective? Mosaic's data scientists can deepen your bench.
AWS ML & AI Services

Mosaic deploys AWS AI services to help customers modernize their data strategy and operationalize insights tailored to their data & decisions.
Mosaic's Engagement Process
Not sure what to expect when engaging with Mosaic? Our comprehensive roadmap outlines the possibilities. We take the stress out of digital transformations, delivering custom insights in weeks, not years.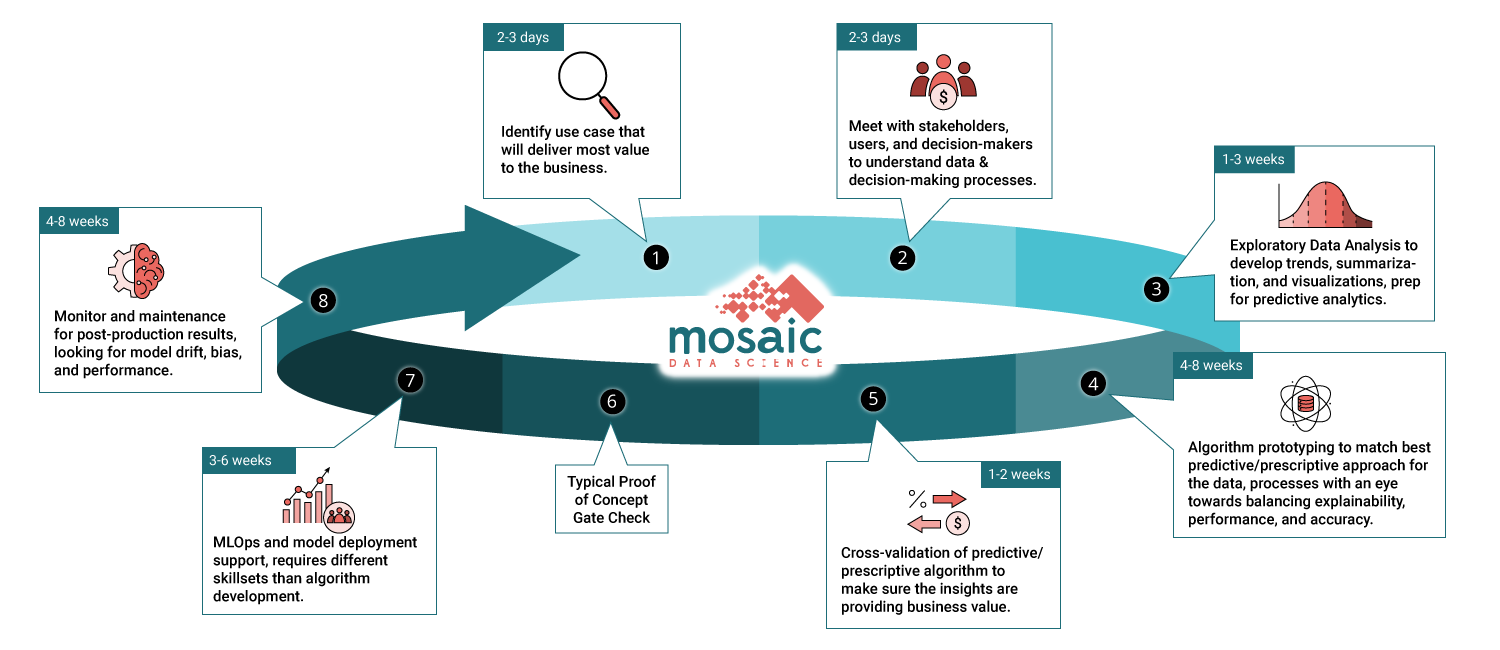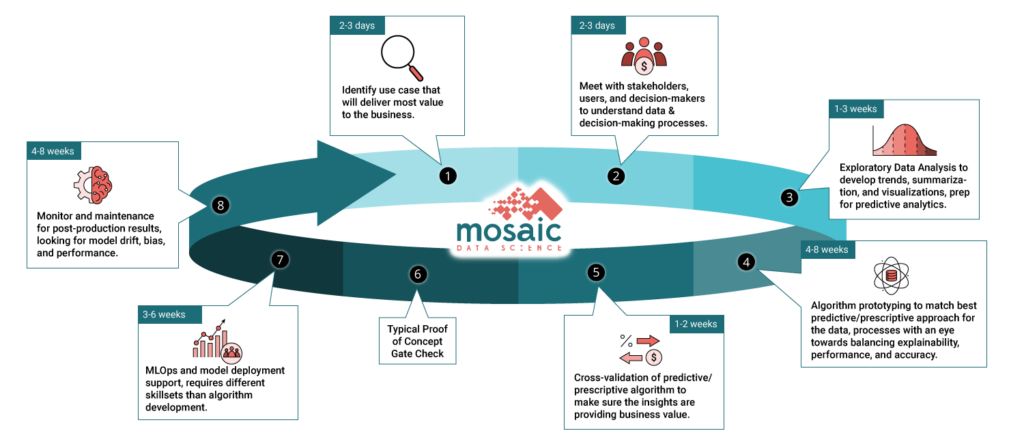 We Are Tool Agnostic
Our data scientists are comfortable using a variety of AI tools and will always choose the right one that will deliver the best outcome for our customers.